Wipro Freshers BPO Walkins 2012 in Top 8 Cities and Metros All Over India.
Walkin Cities Include Hyderabad, Bangalore, Pune, Kolkata, Pune Chennai, Belapur and Delhi for Multiple Positions. Students can Walkin Everyday by calling the HR and Scheduling the Interview. Vacancies are there for both Freshers and Experienced Wipro Aspirants. This is a direct walkin. No Reference is needed. For Complete details on Wipro Freshers BPO Walkins 2012 Please Continue reading.
Wipro Freshers BPO Walkins 2012
Eligibility Criteria:
Under Graduates/Diploma Holders/Graduates/Post Graduates can apply.
Wipro Aspirants with 0-3 Year Experience are eligible.
Candidates should have Excellent Communications Skills.
Basic Knowledge in Computers is Required.
Should have the ability to Analyze and Solve Technical Problems.
Should have knowledge on Desktop and Client Application Tools.(Both Online and Offline Tools)
Should have the ability to use Phone Systems.
Good Knowledge in Wipro Products is Expected.
Should be Willing to Work in Night Shifts.
Job Profiles on Offer:
Finance and Accounts Associates.
Procurement and Order Management Associates.
Customer Support Associates for US and UK Process in Insurance Domain.
SCM Procurement, HRO-Voice Associates.
Technical Support Associates.(Voice Process)
Non-Technical Support Associates.(Non-Voice Process)
Wipro Freshers BPO Walkins 2012 Interview Locations:
There are Totally 8 Locations in which the Interviews are going on. Locations are Listed Below.
Bangalore.
Belapur.
Chennai.
Delhi.
Hyderabad.
Kolkata.
Powai.
Pune.
Important Details:
Percentage Criteria is not mentioned.(Call the given HR Numbers and get the details).
Information Regarding Passed Out Year is not Specified. (Call the given HR Numbers and get the details).
How to Apply:
If you're Interested in Wipro Freshers BPO Walkins 2012 then first call the HR and Fix the Appointment and then attend the Walkin. Don't Walkin directly because the recruitment may get closed any moment.
The List of Job Profiles which are vacant in each and every location and their addresses and the HR Names and Contact Details are mentioned below.
In Bangalore: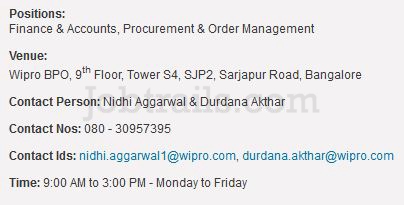 In Belapur: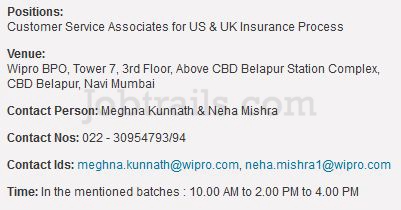 In Chennai: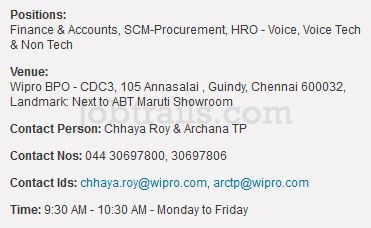 In Delhi: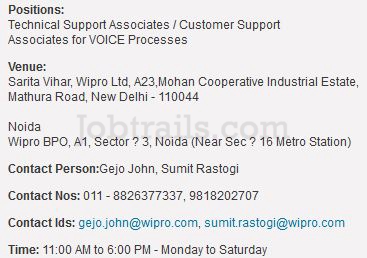 In Hyderabad: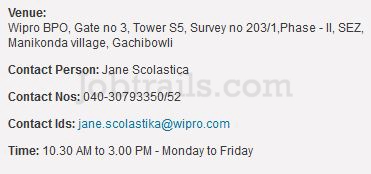 In Kolkata: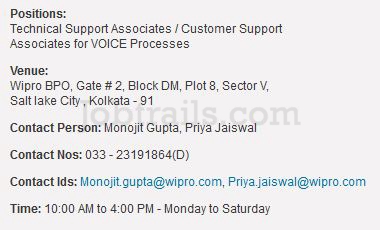 In Powai: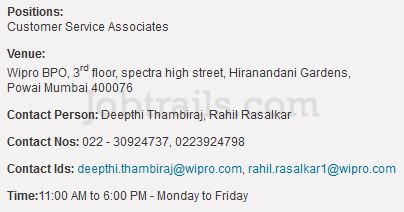 In Pune: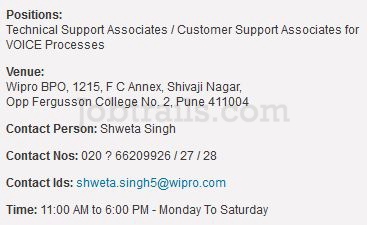 Note: All Queries on Wipro Freshers BPO Walkins 2012 will be answered through Comments.