Cover Letter for Resume helps your resume to stand out from your Competitors resume. I think you all know about the fact that First Impression is the Best Impression. This First Impression on your Resume can be obtained by the Cover Letter. In this article I've Provided a Sample Cover Letter for your Professional Use. Please continue reading to know more about Cover Letter.
Cover Letter for Resume
Let's Get Started by Knowing why you should include cover letter and what is a Cover Letter.
Q: Why Cover Letter?
A: For a Job Application, A HR Recruiter will receive Thousand's of Applications. It's a Known fact that HR Recruiter's spend only 10-30 Seconds to look at your Profile. He'll not be able to read everything mentioned in your resume within those 10-30 seconds. So he'll just screen your resume. If you haven't presented yourself in a effective Manner then your Resume or CV will go to the Dust Bin/Trash Can. So You Just have these 30 Seconds to Impress the Recruiter. This is where Cover Letter can be a Big Asset for you.
Q: So, What is a Cover Letter?
A: A Cover Letter is a Document which is to be sent along with your Resume. A Professional and Well Written Cover Letter Briefs about your Yourself, Your Qualifications and Why you should be considered for the Job. The biggest thing here is "WHY YOU SHOULD BE CONSIDERED FOR THE JOB?".
Q: Where should i add the Cover Letter?
A: The Cover Letter should be the First Page of your Resume Document. Please remember that Cover Letter and Resume both are not different documents. Both of these should be in the same document. The First Page of your Resume Document should be Cover Letter, and the remaining pages will be your resume. Only After Cover letter your Resume or CV Follows.
We'll Discuss Later What are the Best Practices for Writing the Cover Letter and What factors we should consider when writing it. But for Now, I've provided a Ready Made Sample Cover Letter which you can use Instantly. You can download the cover letter and Use it.
Cover Letter for Resume Format:
Your Name (Last Name followed by First Name)
Address  (Complete Address)
Contact: +91- XXXXXXXXXX; Email: XXXXX@gmail.com
Respected HR Team,
I am submitting here with my resume for your perusal and favorable consideration for the post of "NAME OF THE POSITION" in your organization.
Review of my credentials indicates that I am a qualified YOUR QUALIFICATION (BRANCH NAME) from College Name, College Location(City), affiliated to YOUR UNIVERSITY NAME; possess comprehensive knowledge of YOUR SKILLS. Possess rich domain knowledge with comprehensive understanding of IMPORTANT CONCEPTS FROM YOUR SKILLS. Aware of IMPORTANT SUB TOPICS FROM YOUR SKILLS. Worked on YOUR PROJECT NAMES during the curriculum.
With exceptional communication and interpersonal skills, my self – confidence, innovative approach and quick adaptability to changing processes and trends have been my biggest assets.
I am seeking a challenging job that would synergize my skills and experience with the objectives of the organization.
The above credentials along with my enclosed resume make me ideally suitable for a position in your organization. I would appreciate an opportunity for a personal interview.
Thanking you in anticipation of a favorable reply.
Yours sincerely
YOUR SIGNATURE
How to Use the Above Cover Letter:
Read the Cover Letter once Completely and then Start filling the Cover Letter with your details.
I highly recommend you to Keep the Sections in BOLD, Which I've done in the Cover Letter.
You can use the above Cover Letter for Any Type of Position. Just replace the required fields and Use it.
If you don't like any of the fields are sections in the above cover letter then go ahead and edit them.
Sample Cover Letter for Resume:
I'm Providing the Cover Letter Sample for Software Test Engineer Position. It's not a document, It's an Image.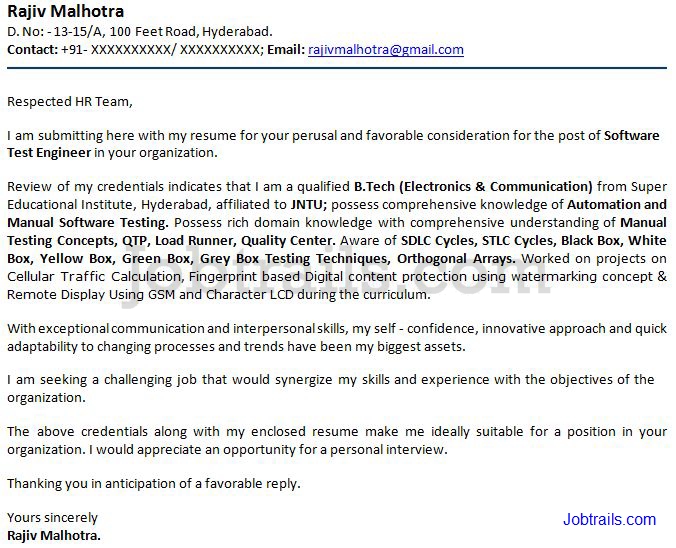 Very Important Note:
If all you use the Same Cover Letter for the same Job. Then It will be Problem for you. Try to edit it and make your own CL.
Download Links:
You can download both the Cover Letter Format and Sample Documents from the Below Links.
Cover Letter Format from Jobtrails.com
Cover Letter Sample Document from Jobtrails.com