TCS Off Campus 2012 for 2011 Passed Outs who completed their graduation in B.Tech/B.E CSE/IT Streams. For Complete details on this TCS Off Campus Please continue reading.
TCS Off Campus 2012
Eligibility Criteria:
Applicant should be a 2011 Passed Out.
Only B.E/B.Tech Graduates are eligible.
Only CSE/IT Streams are eligible for this recruitment.
Applicant should secure atleast 60% through out his educational career.
Applicants shouldn't have more than 2 years gap in education.
Applicants who already attended TCS Drives in Past 6 Months are not eligible.
TCS Off Campus 2012 Registration Details
Students are requested to register first in the TCS Recruitment Portal. The link for the registration is provided below.
Students are strongly suggested to save the above generated registration number. They're required to carry a Print Out of the registration number after successful registration. For Students who already registered in the past, There is no need to register once again.
After Compeletion of Registration in TCS Recruitment Portal, Students should register for Off Campus through the below link. This is also a Must do Registration to get eligibility for Written Test.
Important Details on TCS Off Campus 2012
There will be a 90 Minutes Online Written Test for all the Candidates.
Only Shortlisted candidates will be moved to further rounds.
Students need to get through a Personal Interview Immediately after clearing the online test to get the Job.
Documents to be carried to Venue
Applicants are requested to carry Updated resume.
Original and Multiple Photo Copies of Academic Certificates.
Important Dates for TCS Off Campus 2012
Off-Campus Date: 28th January 2012.
Off-Campus Venue:
Kongunadu College of Engg&Tech
Thottiam TK.
Contact Number: +914326-277571
Note: This Off Campus is organized by Board of Apprenticeship Training and Kongunadu College of Engg&Tech. Please see the advertisement below for complete details.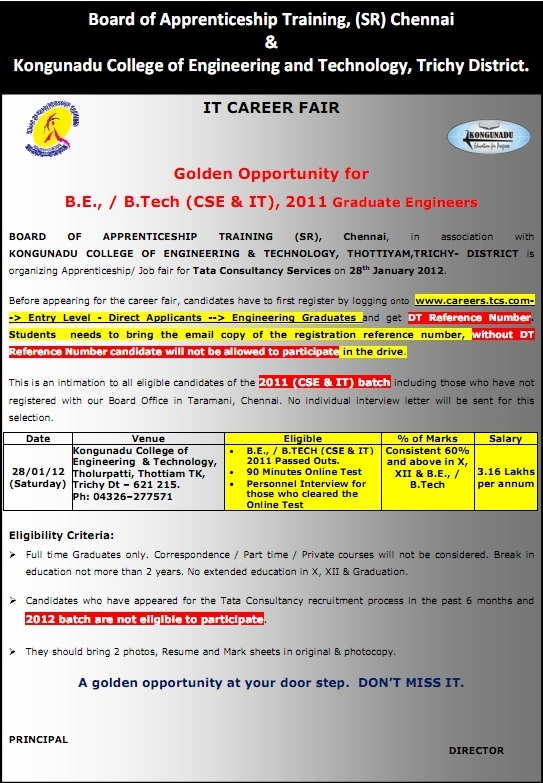 Note: For all Queries on TCS Off Campus 2012 students are requested to contact the above phone number.