Wipro Off Campus 2012 for 2011 Passed Outs Freshers in Multiple Locations on March 3 2012. This off campus is only for students who registered for Wipro through the registration link which is announced before. This Off Campus is going to be conducted in 7 different venues. For Complete details on this Wipro off campus please continue reading.
Wipro Off Campus Freshers 2011 Passed Outs
Eligibility Criteria:
Student should be a 2011 Passed Out.
Must have secured atleast 50% in 10th and 12th.
Must have secured atleast 60% in Graduation/PG.
Student who attended Wipro Off Campus in the Past 6 Months is not eligible.
How to Register for Wipro Off Campus 2012
So, If you are shortlisted by Now you should have already got a mail from Wipro as shown below informing that you are shortlisted for the recruitment process.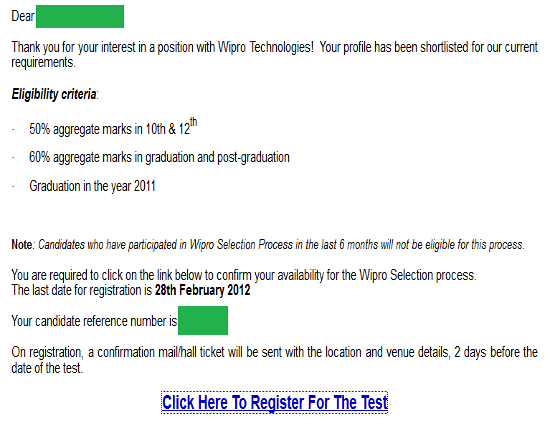 All you need to do now is to just confirm your registration for the off campus. As shown in the above screenshot you would receive a unique reference number which is needed for you to confirm your registration.
Locations to choose:
Hyderabad
Chennai
Bangalore
Kolkata
Cochin
Pune
Gurgaon
Last Date for Confirmation: February 28th, 2012.
Off Campus Date: March 3rd, 2012.
Venue Details for Wipro Off Campus 2012:
After successful registration, I mean after selecting the test location your details will be saved and the Admit card/Hall Ticket will be sent to you shortly.
Important Details for Wipro Off Campus 2012
Candidate should fill in the form with the same email address which is used to register.
Once you choose the test location, You can no longer edit it. So I suggest you to think twice while selecting the test location.
Don't share your reference number with any others.
Some FAQ's on Wipro Off Campus 2012:
Q: I did entered the correct email address, but it's not accepting my form. What to do?
A: You need to enter the email address which you used to register, only this email address will be accepted. No other email address is entertained. If you're facing any issues with this, then enter the email address to which you received the confirmation Link/Job Test Location Link.
Q: I registered multiple times with wipro, so i got 2 emails. What should i do now?
A: You got 2 emails since you registered multiple times.Now you can just make use of 1 Link, the other registration goes in Vain.
Q: I was shortlisted in the previous slot and I attended the test, but not selected. Now once again i got shortlisted, can i attend the Interview?
A: Mostly since you're unable to select in the last time, You'll not be eligible until 6 months. So even though you get selected this time for wipro by attending the Interview, You'll be caught in the background check and you'll be suffered. But my personal suggestion is, If you're in this situation I recommend you to attend the interview once again, let the things go by.
Q: Will all the rounds be conducted on the same day?
A: No excat information on this yet, I'll update the same once i get some proper information
Q: I need previous question papers of Wipro?
A: Unfortunately, I don't have them. You're requested to search for them through the other sources available.
Note: If you're facing any other Issues on Wipro Off Campus 2012 then inform me through comments, I may be able to help you.
Important Note:
If you've just seen this recruitment and if you want to register for next slot(If any exists) then you can register for Wipro through the below registration link.
Update #1:
Q: I registered for Wipro, But I didn't get the Hall ticket? How can i get the Hall ticket?
A: Students need to note that only shortlisted candidates will get the hall ticket. If you didn't get the hall ticket please understand that you're not shortlisted. If any future drives exist by wipro then profiles of the students who didn't get shortlisted will be considered.
Update #2:
Hall Tickets to almost all the students are released and some students are yet to receive the hall ticket.
For those Students who didn't get the hall ticket, No need to Panic. You'll receive the hall tickets. You just need to wait for few more hours. You'll definitely receive the hall ticket. I highly recommend you to concentrate on your preparation ignoring this issue.