Wipro Freshers Software Jobs 2012 for the Entry Level Position of Level 1 MYSQL Database Administrator and Monitoring Engineer in Chennai. As you already Know Wipro has already announced it's Recruitment 9 Positions and We've already Informed it to You. If you haven't seen that recruitment notice, Click the below link.
Wipro Freshers Recruitment 2012 (Openings in 9 Positions)
So Now, It added 2 More Positions. Totally Wipro is hiring Freshers for 11 Positions (9+2 Positions) in Chennai, Bangalore, Pune and Hyderabad.
To make it easier for you to access We decided to add these two openings to the Previous Article Mentioned above. So Please check the above mentioned article to apply for these two more new Positions. You can see the list of all Positions till Now in the below Image.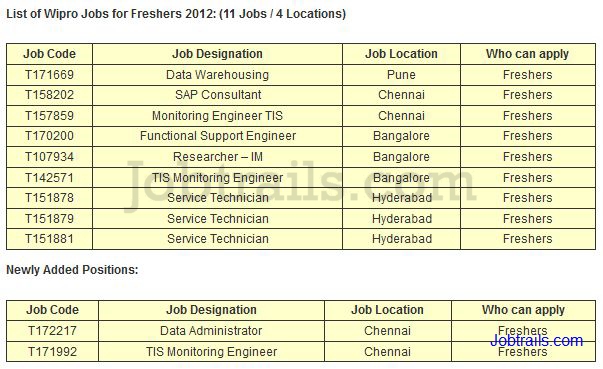 Important Note:
You can apply for the Multiple Positions.
If You don't have a Pan Card or Passport Type "NOT APPLIED" and try to Submit the Application. This method has worked for some students. So give a Try. (CREDIT: This solution is found and reported to us by BHAWANA GARG, You should thank Bhawana for this).
If You've any Problems applying for Multiple Positions, Leave a Comment so that we can help you.