Infosys Off Campus 2012 Batch registrations for 2012 Passed Outs started and also shortlisting of the Candidates started. If You Still didn't registered You can register through the below link.
Infosys Off Campus 2012 Batch Very Important FAQ's:
Jobtrails.com is the First Job Portal in India to Publish the Infosys Registration News for 2012 Passed Outs. Right After the minute we Published this News, Many Job Portals have copied the article from us and Published it on their sites. But they've changed the eligibility criteria. Some made it 68%, some made it 65% and some other made it 60%.
I've stated receiving hundreds of emails and comments from our visitors asking me which is the correct eligibility Criteria?. The same thing happened for TCS. Some Sites published that TCS is going to recruit 2011 Passed Outs this year. I've received some huge emails on the Same Question. But, TCS Never stated that they're going to recruit to 2011 Passed Outs.
If You visit such scrappy sites please don't believe them. They don't know anything. They're just playing with you.
Q #1: So What is the Correct Eligibility Criteria for Infosys Off Campus 2012?
A: Well, Answer is I don't Know. No One Knows unless the Official Announcement is released. Already Shortlisting Started, But Yes, Official Announcement is not yet released. If any website says you that Official announcement is released, ask them for it. Ask them to Publish the Source.
Q #2: So, What to do Now?
A: Well, Since already shortlisting started, I don't think the Official Announcement will come from them. So I recommend all the students who meet the below eligibility criteria to submit their resume to Infosys.
Eligibility Criteria:
60% in 10th.
60% in 12th/Diploma.
60% in Graduation.
60% in PG.
Note: Till now students who have only 70% and above Got Shortlisted. Since We don't know the Correct Eligibility Criteria. We're asking the students with 60% to submit their resumes for Infosys Off Campus 2012.
Q #3: I got shortlisted and I received the email from Infosys. When is the Off Campus?
A: Many Students got emails from Infosys informing them that they are shortlisted for Infosys Off Campus 2012. Congratulations to all of them. Regarding date, You'll be sent another email when you're batched for the Off Campus. You need to wait for your Chance.
Q #4: After how many days of applying, I'll receive the email from Infosys?
A: You'll get the email within 72Hours. You'll receive the email only if you're shortlisted for Infosys Off Campus 2012. Here's a screenshot of the email which you may receive.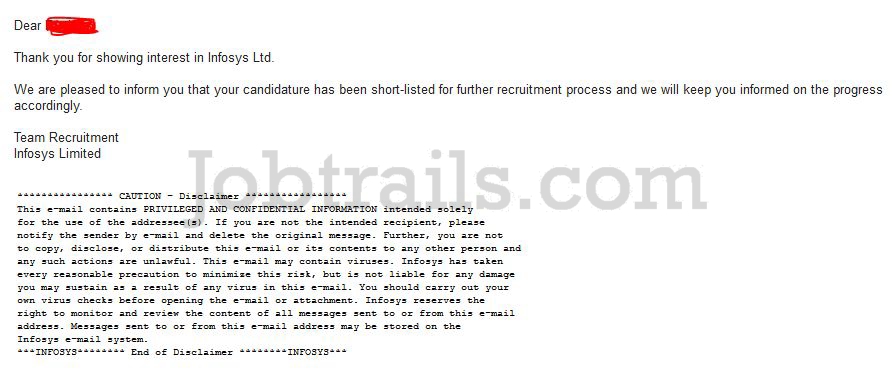 Q #5: How to Prepare for Infosys?
A: I'll Publish an article soon explaining you the complete details. Please stay tuned.
Q #6: I got an Automated Response from Infosys as shown below. What does that mean?
A: If You're one of the Candidate who received the Automated Response as shown below,
"This is an automated response; please do not reply to this mail.
Thank you for your mail
We appreciate your interest in working with Infosys. We shall review your profile against potential openings and revert with a call letter in case we see an immediate fit.

Please note the following details are mandatory on the resume.
Ø Date of Birth (DOB) of the candidate
Ø Aggregate %(upto first decimal) in 10th, 12th and Graduate/Post Graduate Degrees
Ø Year of completion for all the education levels as specified above
Ø Education Board / University for the education qualifications
Ø Personal contact number and Personal email ID.
If you have any queries Please call us on 1-800-30004747."
Then, It means that Infosys Team have Successfully received your Profile and Your Profile is in the Screening Process. If You're shortlisted then You'll get a email as shown in "Question #4".
Any more Questions? Let me know them through comments.