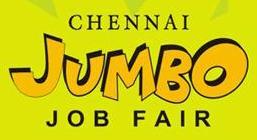 Jumbo Job Fair Chennai 2011 Companies List and the Job Vacancies list is given below. You will find the detailed analysis of each and every company jobs. If you haven't registered till now for Jumbo Job Fair Chennai 2011 you can get the complete registration details through the below link.
Here's the detailed list of the companies attending Jumbo Job Fair Chennai 2011.
Jumbo Job Fair Chennai 2011 Companies List
ITES
Standard Chartered:
Job Roles:
1)Trade Service
2)Checking Securities Services
3)Lending Ops
4)Financial Market Ops
Requirements:
1) Excellent Communication Skills
2) Should be ready to work in Shifts.
3) Knowledge(Speak/Read/Write) in Hindi will be a added advantage.
SutherLand Global Services:
Eligibility: 0-2 Years Experienced. Diploma/Graduation/PG (Any Field) Requirements: Good Knowledge on Operating Systems, Hardware and Networking
HCL:
Job Role: Customer Care and Technical Support.
Eligiblity: B.E/B.Tech/MCA Graduate/Undergraduate (Any Stream)
Lycatel:
Job Role: International Voice Process
RR Donnelley:
Job Roles:
1) Document Specialist
2) Coustmer Service Excecutive
3) Research Analyst.
Eligibility:
1) Graduates willing to work in Night Shifts
2) 0-3 Years Experienced can Apply
Technosoft:
Job Role:
1)AR Voice
2)Demo/Charge/Payment
3)CPC/NON-CPC Coders
Eligibility:
AR Voice (0-4 Years Experienced)
For other (1-3 Years Experienced)
Requirements: Good Communication and Typing Skills
Wipro:
Job Role:
1)Voice Process(0-1 Year Experience)
2)Finance and Account Process(0-4 year Experience)
Eligiblty: UG/PG
Age Limit: 18-30 years
Genpact:
Job Role:
1)Tech Support
2)Transcription
3)Quality Analyst (Min 1Year Experience)
Eligiblty: Freshers/Experienced
Job Locations: HYD/Banglore/Delhi
Covenant India:
Job Role: HR
Eligibility: 0-3 Years Experience
Mckinsey:
Job Role: Business Presentation Specialist
Requirements:
1)Good Knowledge in MS Office
2)6-24 Months Experience
DELL:
Job Role:
1) Call Center Excecutives
2) Data Entry Specialists.
Eligiblty:
0-2 Years Experience
SITEL:
Job Role:
1) Technical Support
2) Customer Support
Eligiblity: UG/PG
Age Limit: 18-36 Years
ALL SEC Technologies:
Job Role: Voice Process
Requirements:
Good Communication Skills
STRING:
Job Role: Voice and Non-Voice Programs
Eligibilty: Freshers/Exp
HSBC:
Job Role: Coustmer Support Executives
Eligibility: 10+2
Serco:
Job Role:
1) Tele Marketing Excecutive
2) Business Development Excecutive
3) Sales Officer
Eligibilty: 10+2
IT
FSS:
Job Role:
1)Java (2-10 Year Experienced)
2)Oracle/SQL/DBA (3-8 Years Experienced)
3)Performance Test Lead (5-8 Years)
4)Web Logic Admin (3-8 Years)
5)Solution Architect (5-8 Years)
6)SAN Storage (5-8 Years)
7)SYS Admin (5-8 Years)
Spectra Soft:
Job Role:
1)SAP Functional Consultants
2)SAP Technical Consultants
3)SAP Sales Professionals
4)Eligibility: 3-5 years Experience
Infinite:
Job Role:
1) Designers
2) Developers
Eligibility: 3-5 Years Experience
Qualcomm:
Job Role:
1) C
2) Linux
3) Android and more……
Eligibility: 2-10 Years Experience.
Hoopla:
Job Role:
1) .Net Developers(3-6)
2) Test Engineers(3-5)
3) Sales and Marketing(2-3)
4) Business Analyst(2-4)
Talent Capital:
Eligibility: 2009 and 2010 Passed outs
NON IT/ITES
Shoppers Stop:
Job Role:
1) Fashion Assistant
2) Customer Care Associative
Eligibilty: UG/PG
ITC Hotels:
Job Role:
1) House Keeping
2) Support Departments and much more…
HDFC ERGO:
Job Role: Sales in different sectors
Eligibility: 2-3 Years Experience
Non IT
Egon Religare:
Job Role:
1) Relation Ship Manager
2) Business Manager
NON IT Manufacturing
Atlas Copco:
Job Role: Design and Sales Engineers
Genie:
Job Role: Key Account Manager
Note: Please note that the list of the companies and the eligibility criteria for the Jumbo Job Fair Chennai 2011 given above are according to the details we got. We don't hold any responsibility in case of any disperancy.